The seamless steel pipe is a steel pipe made of a single piece of metal with no joints on the surface, called a seamless steel pipe. According to the production method, the seamless pipe is divided into a hot rolled pipe, a cold rolled pipe, a cold drawn pipe, an extruded pipe, a top pipe, and the like. According to the shape of the section, the seamless steel tube is divided into two types: a circular shape and a special shape. The shaped tube has a plurality of complicated shapes such as a square shape, an elliptical shape, a triangular shape, a hexagonal shape, a melon shape, a star shape, and a winged tube.
Seamless steel pipes are widely used as conduits for fluid delivery and have a hollow section in transportation of oil, natural gas, gas, water and some solid material pipelines. Compared with round steel and other solid steel, the steel pipe has the same bending, torsion strength, and lighter weight. It is a kind of economic steel section. It is widely used in the manufacture of structural parts and mechanical parts, such as oil drill pipes, automobile drive shafts, bicycle frames and steel scaffoldings used in construction. It can improve the material utilization rate, simplify the manufacturing process, save materials and processing hours, such as rolling bearing rings, jack sleeves, which have been widely used in steel pipes.
Delivery status
It refers to the state of final plastic deformation or final heat treatment of the delivered product. Generally, the delivered status without heat treatment was called hot rolling or cold drawing (rolling) state or manufacturing state. The delivery status after heat treatment was called the heat treatment state. According to the type of heat treatment, it was called normalization, quenching, solution, annealing state. When you are ordering, the delivery status shall be indicated in the contract.Steel pipe supplier in China.
Weight delivery status
Actual weight – at the time of delivery, the product weight is delivered according to the weighed weight.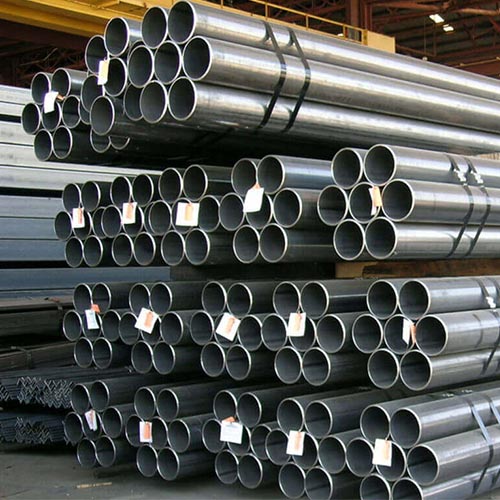 Theoretical weight – in delivery, the product weight is calculated according to the nominal size of the steel.
Applications
1. In Construction: underground pipeline transportation, groundwater extraction during building construction, boiler hot water transportation, etc.
2. In mechanical processing, bearing sleeves, processing machinery accessories, etc.
3. In the electrical industry: gas transmission, water generates electricity in fluid pipes.
4. Anti-static pipes in wind power plants, etc.
If there is corrosion in transportation, how to deal with it is critical. We also know that most enterprises now use the seamless steel pipe, which is composed of two important parts: the transport sensor and transport converter which has the transport of the original and electrode coil and shell, etc.
Industry professionals said that the transmission signal was very weak in the process of transportation of seamless steel pipes. Therefore, we must ensure that the key parts of the pipe grounding must be kept clear. The liquid must also be transported with conductivity of liquid. More ferromagnetic substances or bubbles should not be contained in it.